Meet Our Team
Karolyn - Dental Assistant
Karolyn was born in Brooklin ON. After receiving her diploma for Recreation and Leisure Services she moved to Ottawa. In 2006 she decided to go back to school and successfully completed the Level II Dental Assistant program at CDI college. Although life took her in a different direction for many years she enjoyed working in the fields of Personal Training, Sporting Retail Management and Carpentry, she is extremely excited to be a part of the [email protected] team. Along with assisting she also oversees the sterilization of all instruments for every procedure. Karolyn has recently moved to Perth and lives with her fiance and dog. In her spare time she is busy with outdoor life including: camping, mountain biking, hiking, canoeing, kayaking, fishing and working out.
"You'll never have this day again so make it count."
Shelby - Administration
Shelby was born and raised in Carleton Place, Ontario. She graduated from Algonquin College in 2011 with a diploma in Office Administration. Shelby joined Dentistry @ Perth when it opened in January and looks forward to greeting you with a warm welcome when you come in to the office. Shelby currently lives in Ferguson Falls. In the summer she enjoys ball hockey, kayaking and taking her dog swimming in the winter she can be found snowmobiling or playing broomball.
"Life is a climb but the view is great."
Maria - Dental Hygienist
Maria graduated from Confederation College in Thunder Bay with her dental hygiene diploma in 2005. She has experienced many years in the dental field, first as a Level ll Dental Assistant before she decided to further her education and dental career. Her number one priority is her client care and wants to ensure that everyone visiting her has an enjoyable, comfortable experience. Maria has recently married her wonderful husband, Jeff. In her spare time she enjoys spending time with her two beautiful daughters and family and friends. "I am truly grateful to work with such an amazing team and dental family. I look forward to meeting you and providing exceptional care to my clients!"
"Great people have great values and great ethics."
Brandon – Marketing Coordinator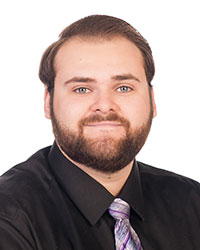 Brandon is an Ottawa Valley native born and raised in Arnprior. He graduated from St. Lawrence College with an advanced diploma in Advertising and Marketing Communications Management. Brandon believes in employing a balanced marketing mix that uses both traditional and digital forms of media. Outside of the office Brandon can be found fishing, golfing, travelling somewhere warm and coaching youth tackle football.
For all marketing inquiries please contact Brandon at [email protected].
"Marketing is really just about sharing your passion." - Michael Hyatt