Meet Our Dentists
Dr. Vijayant Kapur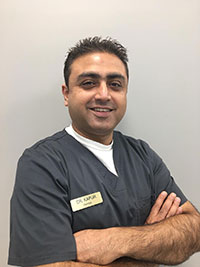 "Do what you love and love what you do..."
With this simple but extremely effective approach, Dr Kapur has paved his way through many milestones in Dentistry.
Over 15 years of experience in handling patients with care and deeply embedded passion for dentistry — That's what defines Dr Kapur.
Dr Kapur has graduated with his bachelors in Dentistry from Baba Farid University, Punjab and went into managing his own clinic from the very start.
On his journey of providing people with dental therapy, as he terms his treatment, he kept developing and expanding his pool of dental skills with lots of training and workshops in Oral Surgery, Endodontics (FiCT), Smile Designing, Orthodontics, Preventive Dentistry, Patient Management and many more.
He possesses great interest in personality studies and human behaviour which is why, along with developing his dental dexterity, he also spent a lot of time in behavioural management which helped him treat and deal with people from all various different backgrounds, be it cultures, languages, ages or any disparities in his clientele.
Although remaining close to the basic fundamentals, Dr Vijayant Kapur has always been a big fan of technology and innovation. He has always promoted and supported the use of the latest techniques, devices, equipment and he is highly apt in handling the state-of-the-art equipment. Dr. Kapur is an expert in making the best of his resources for conducting his day to day patient care.
His approach of putting people and their comfort first is unequalled and when under his counselling, you can rest assured that you are in one of the safest pair of hands.
---
Dr. Hemal Patel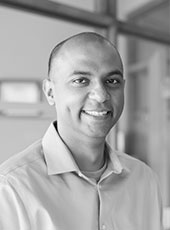 Dr. Patel received his Bachelor of Dental Surgery (BDS) in 2007, graduating from the Coorg Institute of Dental Sciences (India). Dr. Patel received his NDEB equivalency in 2015 and completed his courses received his Dental Licence in Canada in 2016. Dr. Patel has warm and professional chair-side manner and is excited to discuss any questions you may have.
When not in the office Dr. Patel loves to spending time with his family. He married the love of his life Smrutika in 2012, and welcomed a son Aarav in 2014.
Professional Milestones:
Trained 300 Dentists in 3 years
Dental Lecturer in India
Has Licensing for Dental Implants and IV Sedation
---
Dr. Neeraj Bansal, DDS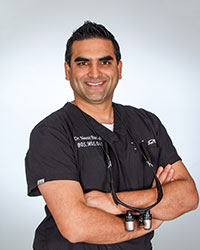 Dr. Neeraj Bansal received his Bachelors of Dental Surgery (BDS) from Punjabi University, India in the year of 2000. Dr. Bansal delved into the concepts of dentistry, and went on to receive his Masters of Dental Surgery (MDS) in Periodontics from SDM college of Dental Sciences, India. Dr. Bansal was excited to share his knowledge and love of dentistry therefore decided to spend time teaching in a dental school from 2005 to 2009. Dr. Bansal graduated with a Doctorate of Dental Surgery (DDS) from the prestigious institution UCSF School of Dentistry, San Francisco in 2013. He graduated with honours in clinical dentistry and endodontics. As a student there, he took elective courses in Implant Dentistry.
Dr. Bansal has vast experience in periodontal management and surgical procedures ranging from extractions to grafting. In fact, counting his past year achievements, he has done several courses, in order to explore the dentistry further. He believes "If you want something new, you have to stop doing something old". Therefore, he has received certifications in the field of:
Oral Sedation - Sleep Dentistry - University of Toronto, 2013
Crown Lengthening – Perio Institute, 2014
Soft Tissue grafting – Perio Institute, 2014
Perio-Surgery – Perio Institute, 2014
Implants - Mini Residency – Toronto Institute of Dental Excellence, 2014
Teeth in a Day – Toronto, 2016
Fellowship ICOI - New Orleans, 2017
Dr. Bansal has devoted his career to learning everything about, and advancing, innovative dental techniques and materials. His combination of cutting-edge dental technology, along with his vast experience and his artistic eye, means that he can transform a smile painlessly. Dr. Bansal possesses a warm and friendly "chair-side" manner, and it is his innate warmth, patience and sincerity that make the difference in his care. His patients often comment that he is a "meticulous perfectionist" who offers the highest level of skill along with a friendly and optimistic personality. He will listen to your concerns and will address each of them in his treatment as he cares about patients through spending time with them, and acting as a consultant or advisor for their dental health. He employs the latest equipment and techniques to provide a predictable and pain-free experience.
Aside from practicing specialized dentistry, Dr. Bansal likes music, watching movies and playing tennis. He lives in Ottawa, Ontario with his beautiful dentist wife and their 7 year old son. We are very excited he has joined our team and look forward to many years of providing the best possible patient care with him.
---
Dr. Raja Sandhu, B.D.S, D.M.D
Dr Raja Sandhu is a graduate from Tufts University School of Dental Medicine class of 2004. Dr Sandhu has been practising dentistry for the last 14 years in the ottawa area with his list of credentials ever growing. To date he has successfully placed and restored over 2500 implants and has extensive experience with oral modeate sedation.
Credentials:
Tuffts University- Doctor of Dental Medicine - 2004
landera ranch Implant institute -Implant Mentoring - 2009
American Dental Implant Association fellowship and mastership - 2011
DOCS Education- Oral Sedation Dentistry - 2008
CMI Institute- mini Dental Implants and Dentures - 2010
Hands on Implant Placement and bone management - 2013
Teeth in day training under renowned surgeon Dr Mark Lin - 2016
Advanced Principles for Implantology: Module 1 (Indirect and Direct Sinus Grafting) - 2018
Dr Sandhu currently resides in Manotick with his wife who is a dental hygenist and part of our team , his three children and his little pet guinea pig. If you are looking for him in his spare time, he may be found on hole #9 of the golf course or out on the river with his family.
---
Dr. Gurfateh Sandhu, B.D.S, D.M.D
Works in Kemptville, Brockville, Kingston, and Perth
Mini implant residency from Toronto Institute of Dental Excellence
Advance surgical training from Studia in Brazil
Certified in Moderate Oral Sedation with DOCS Education
Certified 6 Month Smile provider
Member of Congress of Oral Implantology
Member of Ontario Dental Association
Dr. Gurfateh Sandhu graduated in 2003 with a Bachelors of Dental Surgery degree in Pune, India. While earning this degree, he was actively involved in sports and dance for which he received various awards. Following his degree he moved to Boston where he attended Tufts University and received his Doctorate of Dental Medicine in the spring of 2008. While at Tufts he also served as class president.
Pursing his dream of living in Canada he moved in 2008 to join his brother in purchasing his first dental practice, [email protected] Since making Brockville is home, Dr. Sandhu has furthered his dental education and has obtained his certificate in oral moderate sedation for the comfort of his patients, completed his mini residency in dental implants, and completed advance surgical training in Brazil.
Co-founder of Sandhu Dental Group, Dr. Sandhu not only expanded his dental training, he has also expanded his dental practice and is now owner to multiple dental locations across Eastern Ontario and this has created employment for many dentists and over 70 employees.
While he does travel most days to different locations to practice dentistry he has made Brockville his home base with his wife and three beautiful children. Two boys and a girl. When not in the dental office you will find Dr. Sandhu hiking and exploring the country side and also enjoying the river with his children.
Professional Milestones:
Hundreds of oral sedation and dental implants completed
Co founder of Sandhu Dental Group
---
Dr. Krishna Patel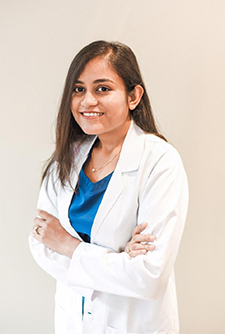 Dr. Krishna Patel graduated in 2011 from Dharmsinh Desai University in India with a Bachelor of Dental Surgery. Following graduation she worked as a head dentist for two years in a dental clinic and for one year at a public health centre. It was during this time she also organized several fundraisers for NGO's in India.
In 2014 she moved to Vancouver, BC and attended Fairleigh Dickinson University where she graduated with her Master of Administrative Science with a concentration in Global Health and Human Services Administration.
It was in 2017 she completed her National Dental Examination Equivalency and was able to start her dental career here in Canada at which time she moved to Ottawa and started her career with [email protected] and [email protected] Square, where not only does she practice all scopes of general dentistry, she also obtained her certificate in Oral Moderate Sedation to offer her patients of all ages.
Although Dr. Patel spent many years with her studies she maintained her passion for dancing and won several dance competition. She was married in 2016 and is currently living in Ottawa with her husband, Dr. Harsh Patel. She is a firm believer in "there is no elevator to success, you have to take the stairs and this is why she works hard and gives her best towards all patient care.
---
Dr. Nikunj Gajjar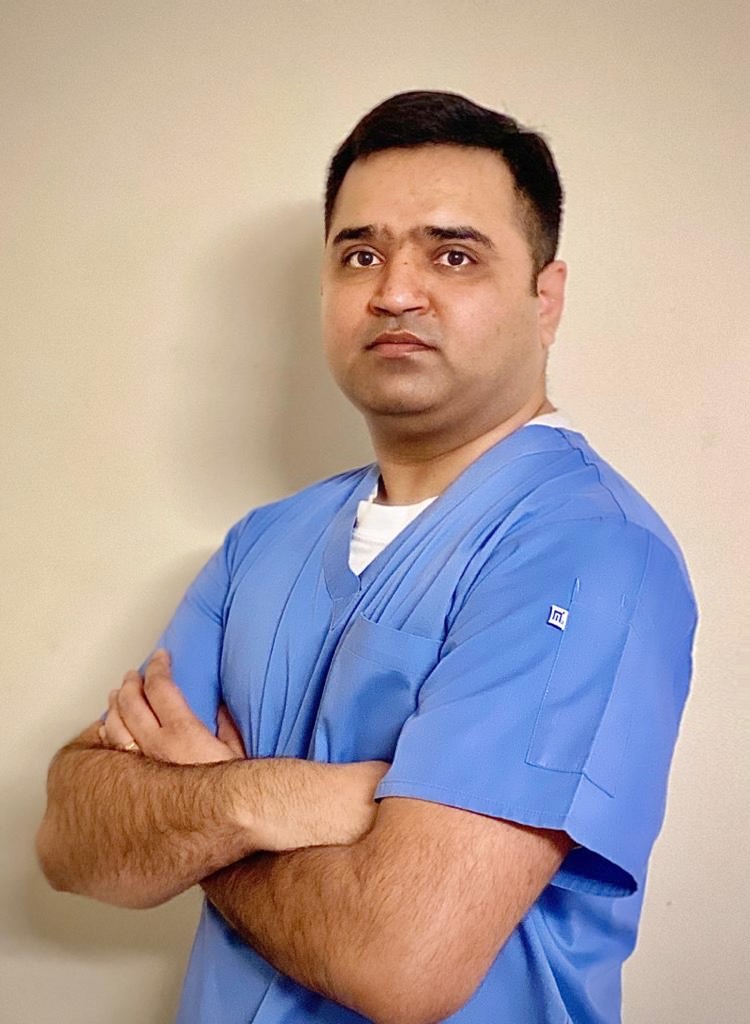 Dr. Nikunj Gajjar has been part of the dental family for over 10 years. After graduating from Gujarat University in India in 2006, he went from being an associate with a well-established hospital, to spreading his wings and opening his own practice in India. Dr. Gajjar moved to Canada in 2015 and has successfully completed the National Dental Examining Board of Canada Exams.
Dr. Gajjar loves to treat patients throughout the age spectrum. As a member of the Ontario Dental Association (ODA) and Royal College of Dental Surgeons of Ontario (RCDSO), Dr. Gajjar continues to upgrade his skills. He enjoys all facets of General Dentistry, but he has keen interest in Root Canal treatment and Cosmetic Dentistry. He is welcoming and personable with his patients. Dr. Gajjar has the ability to make his patients feel relaxed and comfortable by getting to know them and understanding their dental needs.
Outside the office, Dr. Gajjar is a super dad to a beautiful daughter and cherishes every moment he gets with his wife and daughter. In his free time, he likes to explore new places, watching movies and playing cricket.
---